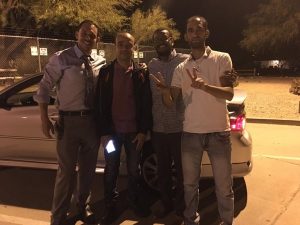 (MESA, ARIZONA, 7/14/2017) — The Arizona Chapter of the Council on American-Islamic Relations (CAIR-AZ) today applauded a judge's decision to grant asylum to a Palestinian refugee who was once held in detention by U.S. Immigration and Customs Enforcement (ICE) in Florence, Ariz., for almost 500 days. 
Mounis Hammouda, who along with Hisham Ghalia made a 7,000-mile journey spanning multiple countries were both detained at the border by U.S. authorities. After learning of the their plight, CAIR-AZ, along with Palestinian-American attorney Zayed El-Sayyed, filed a petition for habeas corpus for both men — which were granted. Both men were freed from ICE detention and obtained work authorization in the U.S.
Hammouda, 31, was granted asylum on Wednesday.
SEE: Palestinian Refugee's Odyssey Ends With Asylum in Arizona
"We are very pleased with the judge's decision to grant asylum to Mounis, who has endured an arduous struggle just to get here," said CAIR-AZ Civil Rights Director, Liban Yousuf. "Now, he can move on with the process of building his life in America, without the fear and anxiety that has come with so much uncertainty these past few years."
SEE: Stateless Fear: An Asylum Story
CAIR is America's largest Muslim civil liberties and advocacy organization. Its mission is to enhance the understanding of Islam, encourage dialogue, protect civil liberties, empower American Muslims, and build coalitions that promote justice and mutual understanding.
La misión de CAIR es mejorar la comprensión del Islam, fomentar el diálogo, proteger las libertades civiles, capacitar a los musulmanes estadounidenses, y construir coaliciones que promuevan la justicia y la comprensión mutua.
– END –
CONTACT: CAIR-AZ Civil Rights Director Liban Yousuf, [email protected]; or CAIR-AZ Executive Director Imraan Siddiqi, 480-704-3786, [email protected]