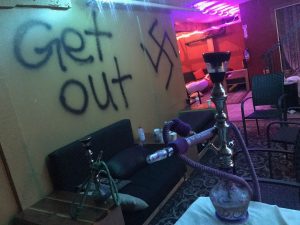 (Image via AZ Daily Sun)
(PHOENIX, ARIZONA, 9/5/17) — The Arizona chapter of the Council on American-Islamic Relations (CAIR-Arizona) today called on state and federal law enforcement authorities to investigate vandalism at an Iraqi-American business in Flagstaff as a hate crime.
According to news reports, the Maktoob Hookah Lounge was vandalized with broken mirrors, items set on fire, as well as a Nazi swastika spray painted on the wall.  The words "Get Out" were also spray painted on the restaurant's wall as well.
SEE: Downtown Flagstaff business vandalized with Nazi symbols
http://azdailysun.com/news/downtown-flagstaff-business-vandalized-with-nazi-symbols/article_349547c7-a5ca-521b-a997-1c11446d7c45.html
Police investigating spray painted swastikas at hookah lounge in Flagstaff
http://www.12news.com/news/local/arizona/police-investigating-spray-painted-swastikas-at-hookah-lounge-in-flagstaff/471135633
"We are continuing to see a steady rise in hate targeting Arab and Muslim communities," said CAIR-Arizona Executive Director Imraan Siddiqi. "This disturbing increase in hate needs to be taken seriously, as our places of business and houses of worship are being threatened nationwide."
Earlier this year, a man charged into the Islamic Center of Tucson, ripping up copies of the Quran and littering them all over the center.
SEE: Man Breaks Into Mosque, Rips up Copies of the Quran
http://www.huffingtonpost.com/entry/tucson-mosque-qurans_us_58c84983e4b022994fa2d3bb
In December, a Middle Eastern Restaurant in Phoenix was targeted by vandalism.
SEE: Middle Eastern Bakery and Deli in Phoenix Vandalized, Community Rallies
http://www.phoenixnewtimes.com/restaurants/middle-eastern-bakery-and-deli-in-phoenix-vandalized-community-rallies-8882889
Since the beginning of the year, CAIR's national office has called for investigations of possible bias motives for dozens of other incidents targeting mosques in Colorado, Florida, Ohio, Iowa, Kentucky, Georgia, Arizona, Virginia, West Virginia, New Jersey, New York, Maryland, Texas, and a number of other states.
CAIR: 2017 on Track to Becoming One of the Worst Years Ever for Anti-Muslim Hate Crimes
http://islamophobia.org/158-key-issues-in-islamophobia/209-2017-on-track-to-becoming-one-of-the-worst-years-ever-for-anti-muslim-hate-crimes.html
CAIR is offering Muslim community leaders free copies of its booklet, "Best Practices for Mosque and Community Safety."
A hard copy of the booklet may be requested through CAIR's website at: http://www.cair.com/mosque-safety-guide.html
It may also be viewed at: http://www.cair.com/images/publications/CAIR_Mosque_Safety_Guide.pdf
CAIR said it has witnessed an unprecedented increase in hate incidents targeting American Muslims and members of other minority groups since the election of Donald Trump.
The Washington-based civil rights and advocacy organization urges community members to report any bias incidents to police and to CAIR's Civil Rights Department at 202-742-6420 or by filing a report at: http://www.cair.com/report
CAIR recently launched an app to share critical "know your rights" information and to simplify the process to report hate crimes and bias incidents. CAIR is urging American Muslims and members of other minority groups to download the app and utilize this resource to stay informed and empowered.
For a quick download of CAIR's civil rights app, click here: http://www.cair.com/app
CAIR is America's largest Muslim civil liberties and advocacy organization. Its mission is to protect civil liberties, empower American Muslims, and build coalitions that promote justice and mutual understanding.
La misión de CAIR es mejorar la comprensión del Islam, fomentar el diálogo, proteger las libertades civiles, capacitar a los musulmanes estadounidenses, y construir coaliciones que promuevan la justicia y la comprensión mutua.
– END –
CONTACT: CAIR-Arizona Executive Director Imraan Siddiqi, 480-704-3786, [email protected]; CAIR National Communications Director Ibrahim Hooper, 202-744-7726, [email protected]