As an organization, CAIR-AZ has always prided itself in education – and giving back to the next generation of community leaders.  At last year's CAIR-AZ Banquet, we laid out ambitious plans to help grow this chapter and thereby expand the capabilities and opportunities for those with ambitions and dreams to become community leaders.
As we fast forward to 2013 – We have realized this promise – by creating new programs, expanding our reach and inspiring many more future leaders.  One of our proudest accomplishments was the successful launch of the CAIR-Arizona Scholarship Program.
We launched this program to create opportunities for college students who are aiming to make a difference in the community.  With rising education costs, limited scholarship options out there and a growing college-age demographic – we realized that there was a void that needed to be filled, even with the limited resources our organization has.
This spring, we launched the program, and went through a tedious selection process to find two deserving recipients of this award.  Please join the CAIR-AZ team in congratulating our recipients
Fitri Cortes is a student at the Barrett Honors College at Arizona State University.  As an up and coming leader within the Phoenix community, Fitri has spent her time volunteering at many local organizations such as the Cultural Cup Food Bank and the Ronald McDonald House.
Fitri in her own words:
Hello, my name is Fitri Cortes. I was born and raised in Arizona by Muslim multiracial
parents. I received an Islamic education at Arizona Cultural Academy. Near the end
of high school, I was accepted into Arizona State University's Leadership Scholarship
Program. In Fall 2012 I started school at Barrett, the Honors College at ASU studying
Industrial Engineering. I discovered my role on campus is where it's always been:
involvement. Service is something very important to me; because I feel it is the way
I make myself available for others, hoping to be viewed as an approachable person.
Service has allowed me to create multiple communities I belong to and cherish; through
them, I hope to succeed in my life goals. CAIR-AZ is helping me achieve one of my most
important goals of pursuing higher education by awarding me a generous scholarship.
I accept this scholarship happily, not only because it's free money, but because of the
prestigious organization offering it. I sincerely thank CAIR-AZ for this scholarship and their
leadership in our community.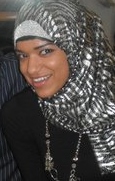 Leila Gad is a student at Gateway College, focusing on the area of Social Work.  She was born and raised here in Arizona  – and has overcome many obstacles at a younger age, and is now on a positive track toward completing her studies.
Leila in her own words:
"I'd like to become a lawyer or caseworker for children placed in Child Protective Services or for juveniles. There are a lot of children who get placed into the care of the state, who soon 'age out' and are forced to become self-sufficient.  As a caseworker, I will be able to aid them to resources and provide them with civil knowledge.  As a lawyer, I will see to it they are well aware of what is happening in their case as well as what's happening to them."
"This scholarship will help me to complete my education uninterrupted, I am blessed Alhamdudillah. I feel that I've greatly benefited from the scholarship as I can continue to pursue my career a lot less stressed. Thank you."
Please join us in congratulating Fitri and Leila on receiving the 2013 CAIR-AZ Scholarship.  We hope this will make a positive impact on their pursuit of higher education and serving their community.